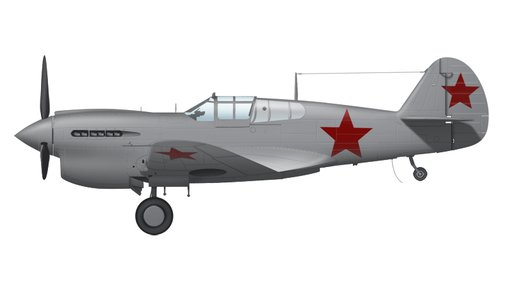 Last Friday we brought to most of you some good news - allowing owners of the Premium Edition to bypass the unlockable modifications instantly. To help those that might also want this option, but don't own the Premium Edition, we are launching a sale for Standard Edition owners that will last from February 13th till February 20th and will give everyone an opportunity to purchase Premium aircraft (La-5 and Fw 190 A-3) at a 50% discount. The sale prices will be available on both our site and the Steam page. Make yourselves a bit happier with these new planes and new opportunities, and don't be shy to buy them as a present on St.Valentines Day!

Meanwhile, we keep rolling with big news about IL-2 Sturmovik's future. Starting with the fact that the series is actually going to have a future. Last December, for instance, nobody including us was certain about what would happen next. But good fortune has blessed our hard work and we now know what we will do next.

We are proud to announce that the 1CGS team has started to work on the next title in the the series - IL-2 Sturmovik: Battle of Moscow. The next stage of this project is set to begin this March - that's when we'll be ready to reveal the details and tell you more about the new game's compatibility with BOS, Early Access Plans and other important details. And now we present you the list of planes that Battle of Moscow is going to feature:
| | |
| --- | --- |
| I-16 type 24 | Bf 109 E-7 |
| MiG-3 | Bf 109 F-2 |
| IL-2 model 1941 | Bf 110 E-2 |
| Pe-2 35 series | Ju 88 A-4 |

And the iconic Р-40 E-1 and MC.202 Series VIII aircraft are going to be offered as Premium planes. Remember that our Premium Planes are an opportunity for us to build interesting and popular aircraft that had a presence on the Eastern Front, but not necessarily a regular combatant.
| | |
| --- | --- |
| P-40 E-1 | MC.202 Series VIII |
Later, in March 2015 we'll start the pre-order program for BOM and will publish all necessary info about the future editions. We do understand that you have endless questions, and we'll answer them in up-coming developer blogs which are going to be posted during Pre-Order and Early Access stages.

Note that Version 1.009 for BOS is coming really soon, bringing you over 40 additions and fixes. This update is going to be deployed in the end of February. And of course we're already working on the Summer and Fall Stalingrad maps which are going to distributed freely among all BOS players in Q3 2015. And work on the Dserver and Mission Editor continues.

This is just some of what we're preparing. We don't want to spill all the beans today. This Spring is going to be quite promising for all combat flight sim fans.