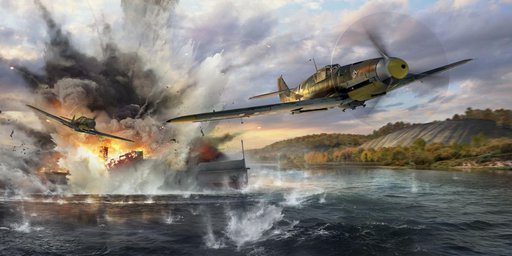 Today we reach a major milestone in IL-2 Sturmovik project and we sincerely hope you'll enjoy the new stuff.
First of all, we added the long awaited summer and autumn seasons along with the new campaign that covers early stages of Stalingrad battle from last days of flaming August to the middle of November when first snowflakes started to fall on the ruins of the city. In the new campaign we've tried to implement some of your requests and it contains static scenarios in addition to regular dynamically generated ones. Each one of them is a short story of a Russian or German pilot, a small episode of the world war.
Second, a new plane appeared in the 'already released' list of Battle of Moscow aircraft - Bf 109 E-7. Now all customers of Battle of Moscow can fly it while those who have only Battle of Stalingrad can choose it as an enemy, as well as all other BoM planes.
Third, today is a happy day for those who pre-purchased standard edition of Battle of Moscow - now they can jump into pilot seats of I-16 type 24 and Bf 109 E-7 (only the owners of Premium version of Battle of Moscow could fly them earlier). MC.202 and P-40 E-1 planes are still exclusive to Battle of Moscow Premium version, they will be available for separate purchase later.
Just in case you haven't noticed, there is an active sale underway. Now you can add La-5 and Fw 190 A-3 to your account if you own standard version of Battle of Stalingrad at half the price. Standard and Premium (which already includes these two planes) editions of Battle of Stalingrad are also 50% off, so if your friend (or maybe even you) doesn't have BoS yet it would be a good opportunity to fix this. Please note that additional planes should be added on Steam for Steam version and in our store for non-Steam version.
See you in the sky, pilots! For a safe take-off don't forget that engine power is significantly lower at higher summer temperatures than during winter.
1.104 change list
1. Bf 109 E-7 fighter is now available to customers who pre-purchased standard version of Battle of Moscow. Anyone who own Battle of Stalingrad can set it as an enemy.
2. New maps added: Summer Stalingrad, Autumn Stalingrad, Summer Lapino and Autumn Lapino.
3. New campaign added: Battle of Stalingrad: part 1
4. New tactical overlay shows frontline and units locations on in-game campaign map
5. Interaction between an aircraft and ground has been improved to the next level of detail, you'll notice a distinct difference between concrete and dirt runways, fields, ice and other terrain types. In addition, they become more slippery during rain.
6. Additional optimization of the game and dedicated server added.
7. Maximal amount of players on one server increased to 84.
8. Problems found with AI taking off have been fixed.
9. AI plane control improved, this should decrease the probability of AI getting into uncontrollable spin (was especially profound on Fw 190).
10. AI ground attack routines improved, it now maintains a higher speed, resulting in higher survival rate.
11. AI landing routines improved, which should reduce risk of colliding with other planes or objects.
12. Setting bomb fuses to off will now properly stop them from exploding after drop.
14. Elevator controls now being damaged correctly, so it's impossible to have only half of elevator damaged.
15. Control rods can be damaged only by hitting parts of a plane where they are located.
16. Stabilizer damage resistance corrected for LaGG-3, La-5 and Bf 109 planes.
17. Playing back the record including P-40E-1 with 500 kg bomb will no longer cause an error (for tracks recorded in this version).
18. Minor improvements for mission creators (lines type 3..8 will render at different thickness).