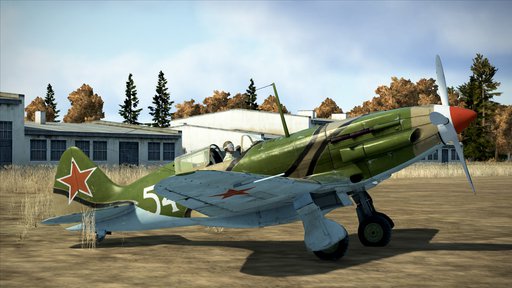 Dear Pilots!
Jason coming to you live from the Moscow 1CGS offices! We are very happy to announce that we have just released Battle of Moscow and our two latest Collector Planes (P-40E-1 and MC.202) on Steam. Battle of Moscow can be purchased as a standalone product from our website, but on Steam it is available as DLC for Battle of Stalingrad.
This completes our latest development goal and Battle of Moscow is fully released and available to all! Of course, small updates, bug fixes and other improvements will continue to come as we move into our next development cycle.
In addition to the BOM Steam release, we have made changes to content availability in the game and on our website. We have also made some changes to the official Sturmovik store such as adding a shopping cart. More positive changes to our website will be coming in the weeks and months ahead. Please note the changes we have made below.
1. You can buy any Collector Plane while having any edition of the game. For example, you can buy the P-40E-1 and fly it over the Battle of Stalingrad.
2. Collector Planes come with all their modifications and skins available from the start, regardless of how they were purchased, separately or in a Premium Edition.
3. Collector Planes' modifications and skins will be automatically unlocked for existing owners as well (this process is underway and will finish in several hours).
4. If you own both Battle of Stalingrad and Battle of Moscow, you can use all the planes in any campaign where they were available historically.
5. BOS players who don't own BOM yet can login to multiplayer servers hosting the Moscow map and vice versa for the Stalingrad map and BOM only owners. However, you must own the planes offered in the mission to fly them.
6. If you bought Battle of Moscow on our website earlier and wish to convert it to the Steam version, you will be able to do so on next Monday, August 15. Please note that since Battle of Moscow on Steam is a DLC and not an independent game you'll need to have Battle of Stalingrad activated on your Steam account to play it. You'll receive a Steam key for Battle of Moscow DLC.
7. Standard Edition owners now can unlock all weapon modifications through our website without playing the campaign (previously this ability was available in Premium Edition only).
8. In the future, when you choose to Activate Unlocks through our website we will include the skins as well as the modifications for either edition of the game. The earning of unlocks as a concept will be completely optional at that point.
And as you know, we are also considering our future steps with the IL-2 Sturmovik franchise. Much discussion within the team is taking place this week, the result of which we think will be welcomed by all of you. More information will be released in the coming weeks along with the opening of pre-orders for the flyable Ju-52 and Yak-1b. Two very cool planes that will further expand our plane-set on the Eastern Front.
And finally, the game has been updated to version 2.003. The full list of changes follows:
Features:
1. BoM planes added to BOS campaign (those which saw action there historically):
- I-16 type 24
- MiG-3 series 24
- P-40E-1
- Bf-109 E-7
- Bf-110 E-2
- MC.202 series VIII
- Ju-88 A-4
2. BoM planes added to BOS campaign part 2 (those which saw action there historically):
- P-40E-1
- Bf-109 E-7
- Bf-110 E-2
- MC.202 series VIII
- Ju-88 A-4
3. BOS planes added to BoM campaign (those which saw action there historically):
- Bf-109 F-4
- He-111 H-6
4. Players who don't own BOM yet can login to multiplayer servers hosting the Moscow region map and vice versa.
5. Smoke generators can be attached to every plane.
6. New gunfire sounds added.
7. Added ability to switch to enemy radio frequency (LAlt+C).
8. FFB effects improved on all planes.
9. Plane selection dialog in QMB changed.
10. Ground support missions made more diverse (possible targets are big artillery battery and tanks, small battery and tanks, tanks only, battery only).
11. Targets in bridge and warehouse bombing missions are easier to identify from other bridges and warehouses).
12. Alarm sirens added to airfields in QMB and campaign.
13. AT gun positions added to front line in campaign.
14. HE damage calculations made more accurate for aircraft and tank crews.
15. IL-2 armored cockpit now protects from explosion fragments even when opened.
16. Pneumatic or electric gun re-loaders are used on aircraft equipped with them (backup mechanical reload used when there is no power).
17. Grass area border made less visible.
18. 'Distant grass' option added that triples its drawing distance (it may come with a severe performance hit).
19. 122 mm Soviet howitzer М-30 added.
Other changes:
20. An error in automatic bombsight mode that caused He 111 and Ju-88 to drop bombs a bit later that needed has been fixed.
21. 'Inverted' canopy opening sound corrected on LaGG-3, La-5 and IL-2.
22. Radiator control buttons corrected on Ju-87, both Pe-2 and MC.202.
23. Cabin camera shake effect corrected, it is influenced by engine RPM.
24. Ju-87 engine RPM won't 'stutter' at maximum throttle.
25. A glitch that caused Pe-2 to move with retracted landing gear removed.
26. FFB effects corrected for MiG-3.
27. Armored pilot seats now protect from explosion fragments in addition to projectiles.
28. P-40 engine assistant corrected (it won't break the engine at high altitudes).
29. P-40 engine modes corrected.
30. Turret guns won't glitch in certain positions and angles.
31. F4 camera won't stutter when using joystick.
32. AI planes in multiplayer will attack human pilots more aggressively.
33. Different flight speed won't affect FFB gunfire effects power on P-40.
34. Airfield Izocha on Velikie Luki map flattened for easier taxiing.
35. Forest cut around airfields Ilyinskoye, Zenino and Borki on Moscow map.
36. A bug that could cause the game to hang while loading a mission and Alt-Tabbing from it has been fixed.
37. Interface optimized to minimize performance hit when switching mini-map scale.
38. Interface map optimized to display many object symbols without affecting performance.
39. Stutters from loading landscape textures removed.
40. Significant power difference during the twin engine start which could cause an aircraft to turn removed.
41. AI wingmen correctly retract flaps after takeoff.
42. Fw-190 and He-111 pilot head position now is visible in external view.