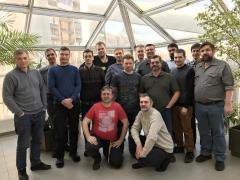 Hello everybody,
While the VR update testing is almost finished, we continue to work on Battle of Kuban aircraft. More than a half of the work on the IL-2 mod. 1943 flight model is done and the Spitfire flight model is in the works as well. 3D models of the A-20B Boston bomber and the Yak-7b fighter are being built according to the schedule and we just started the work on the P-39L-1. All these planes are remarkable, most of them have interesting construction and systems peculiarities. Today we'd like to show you WIP screenshots of the German strike aircraft Hs-129 B-2. The model itself is finished, 3D artists are working on texturing and damage visualization. It's likely you would be interested in the armament of this aircraft, so here it is:
Two fuselage mounted 7.92mm machine guns MG 17, 1000 rounds per each.
Two fuselage mounted 15mm guns MG 151/15, 250 rounds per each. They can be replaced with 20 mm guns MG 151/20 with the same amount of ammo.
30mm drum-fed gun Mk 101 in the gun pod (30 rounds).
30mm belt-fed gun Mk 103 in the gun pod (80 rounds).
Four 7.92mm machine guns MG 17 in the gun pod, 1000 rounds per each.
Two SC 50 underwing bombs.
Four SC 50 underwing bombs.
SC 250 underbelly bomb.
It is interesting that the collimator aiming sight is actually mounted outside a very cramped cockpit. It's also unusual to design a small strike aircraft with two engines:
Our project producer Jason Williams have arrived in Moscow. We dedicated this week to comparing notes discussing how IL-2 Sturmovik will evolve in the closest future. Some ideas have arisen during these conversations, so if they start to become real we will share them with you.
This past month marked the 10 year anniversary of the founding of 777 Studios which as you know is now part of 1C Game Studios and over the past decade has helped contribute much to our hobby with Rise of Flight and IL-2 Sturmovik . Thank you Jason for your long time commitment to combat flight-sims and our team. And happy 44th birthday from the team.
And here is a short video - Jason is checking out VR dogfighting in the version 2.009 release candidate:
PS.
Also we remind you that we have launched a huge sale in our store and on Steam - this is a good opportunity to get the game at a discount to prepare for VR support release next week!
IL-2 Sturmovik: Battle of Stalingrad editions are 50% OFF and Battle of Moscow editions are 40% OFF, while Fw 190 A-3 and La-5 Collector Planes are 50% OFF and P-40E-1 and MC.202 are 33% OFF (at our store and on Steam). And the entire Rise of Flight lineup is 66% OFF (at our store and on Steam). The Steam sale will end on April 10th while the discounts in our store will be active until 9:00 GMT April 15th.