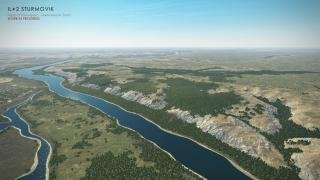 Hello virtual pilots,
Today I have the honor to write a Dev Diary. My name is Evgeny Isaev, I'm the lead map maker. I want to tell you a bit about our work and share some good news.
The Stalingrad map was the first in our project. Time has passed and now, thanks to our lead programmer Sergey Vorsin, we have new technologies, instruments and methods that allow us to reach a new level of quality. In addition, the recent changes in the engine for almost four times visibility distance increase caused visible artifacts on maps that were most apparent on the Stalingrad map. So it was the time to re-visit and improve our first map. This wasn't planned initially, but we ought to find the time for this task.
The main issue was the repeating of terrain textures that was much less noticeable before. Even with very large textures, visible tiling is inevitable with the new far visibility distance. To solve this issue, we used our new tech that was created for mountains on the Kuban map - procedural texturing. This allowed us not only get rid of the tiling but also emphasize the map relief and make each area unique. Nature itself helped us in this task - we used the real-world satellite heightmaps. We ourselves were surprised at the end result.
We read your comments on the forums and know that some of you put up some valid points regarding the maps, for instance, that the Stalingrad area is a steppe and therefore it should have much less agricultural fields. We knew this since we always do a thorough research on the areas we recreate in the game, but this implementation was mandatory. It's pleasant that you notice smaller things. Now, the most part of the updated Stalingrad map will be a steppe, making it more true to history.
Thanks to our increased experience and new methods at our disposal we were able to achieve a much better result - the ground surface became much more vivid, its microfeatures are different on cliffs, ravines and plains, contributing to the feel of the world scale and allowing to estimate your altitude easier.
You can see some screenshots of the updated summer map below (update 3.001 will include the updated summer and autumn seasons). The old version of the map (but with the new visibility distance and sky) is shown on the left for comparison, while the updated map at the same lighting conditions is on the right.
We hope you'll like the new version of the map and it will give you new emotions from the flight in our simulator.