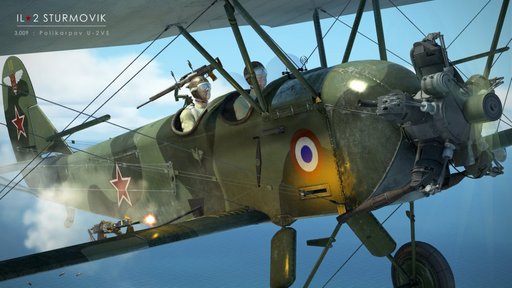 Dear friends,
Trying to squeeze in more functionality, new content, improvements and additions for you before the holidays, we've prepared another update 3.009. This time, the main feature of this update is the new content: Collector Plane, famous Soviet light bomber U-2VS. At the moment it can be used in QMB and multiplayer modes, but we'll add new Career mission types especially for it (Stalingrad and Kuban ToWs) next month.
There are two new scripted campaigns available. One made by =BlackSix= happens at Stalingrad after 'Blazing Steppe' and continues the story of the German pilot that started in '10 Days of Autumn' campaign, while another made by =Gambit21= is dedicated to A-20 squadron operating in the skies of Kuban.
As usual, the update also brings numerous improvements and additions, upping the overall quality of the sim:
1. New Collector Plane U-2VS;
2. New scenario campaign 'Fortress on the Volga' by Alexander =BlackSix= Timoshkov;
3. New scenario campaign 'Havoc over the Kuban' by =Gambit21=;
4. New Career mission "Troop concentration night bombing strike";
5. New Career mission "Enemy airfield night bombing strike";
6. New Career mission "Railway hub night bombing strike";
7. New Career mission "Supply dump night bombing strike";
8. New Career mission "River crossing night bombing strike";
9. Our community enthusiast =BlackHellHound1= remade all outer textures of Bf 109 F-2 (main texture, bump, specular, damage) and made historically accurate skins for it in 4К;
10. Three new skins for Fokker Dr.I;
11. Two new skins for SPAD 13.C1;
12. The delay, when a new player connects to a server, has been minimized for other players;
13. Projectile hits at turret gunners now calculated properly (they weren't counted properly before);
14. 76 mm APHE rounds won't erroneously damage the internal components without penetrating the armor;
15. P-47D-28 skin damage has been corrected (increased);
16. Airfields surface on Velikiye Luki map has been flattened;
17. It is now possible to lean to the gunsight closer than before on all aircraft;
18. Visual propeller damage corrected on Ju-52 (previously damaging the right propeller would visually damage the left one);
19. Inability to start a new Career from an old one (lack of available units) has been fixed;
20. After spending all ammo of one kind in a tank the interface won't erroneously show the full ammo;
21. Escape menu works correctly even if there are no vehicles in the mission;
22. Wrong waypoint labels corrected in scenario campaigns;
23. Mission briefings text rendering corrected in scenario campaigns;
24. The random mirroring issue of a pilot portrait in Career has been fixed;
25. Creating new Career in Stalingrad ToW has been fixed for certain units;
26. An issue of jumping reflections in the water caused by mirrors has been fixed;
27. Vehicle pathfinding issue that could cause slow performance loss has been fixed;
28. Formation movement AI on land and water has been improved - the leader won't slow down if it is possible;
29. Collision detection routine improved (the detailed tanks shouldn't twitch in certain situations anymore);
30. Formation movement has been improved overall;
31. The bug that caused AI pilots to miss ground targets has been fixed;
32. AI checks the altitude in a downward spiral maneuver;
33. Bombs and rockets equipped AIs should correctly engage ground targets in QMB;
34. Modifier object: it is now possible to assign negative values to a counter. Both the current value and trigger threshold can be set for a timer;
35. Timer: when a new trigger signal is received, the timer resets;
36. Modifier and timer: parameter index 0 now controls the current timer value while parameter index 1 controls the timer threshold;
37. Modifier and timer: timer can be reset and stopped by parameter index 0 and value -1;
38. Fw 190 A-8: canopy raindrops added for Sturmjager modification;
39. Fw 190 A-8: windshield cleaner corrected for Sturmjager modification ;
40. Fw 190 A-8: too dark materials corrected at some places;
41. Fw 190 A-8: rocket control box decreased in size;
42. Fw 190 A-8: pilot model holds the control stick;
43. Bf 109 G-14: pilot model holds the control stick.