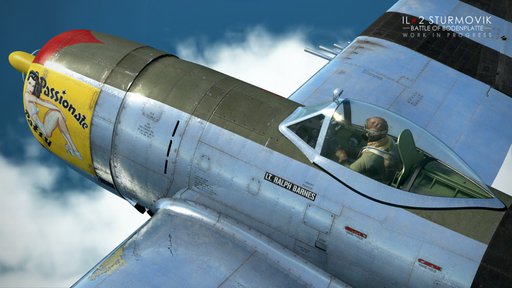 Hello everybody,
So, this is the end of 2018. It was a very interesting year for us, it brought many new, but long-awaited changes and improvements to the project. Almost 500 points were listed in the update changelists in total and there were more minor, unlisted ones which are impossible to count. All this combined upped the quality of the sim to a new level. And right now we continue the development of our three Early Access projects: Battle of Bodenplatte, Tank Crew - Clash at Prokhorovka and Flying Circus Volume 1.
For the main project, Bodenplatte, we're working on several new aircraft at once. Having completed the implementation of the air compressibility and significant improvements to the damage model (they are already in the public version of the sim), our Lead Engineer is creating the physical model of the jet engine for Me 262. Of course, this work opens up the possibility to widen our aircraft pool in the future.
Our partner Ugra Media makes the new WWI aircraft for Flying Circus - Fokker D.VII, Fokker D.VIIF and Sopwith Dolphin. They'll start the work on the Arras area map (1918) soon.
The new tanks for Tank Crew that are being made by our partner Digital Forms are more than half complete already: M4A2, T-34 mod. 1943, PzKpfw IV Ausf.G and PzKpfw III Ausf.M. Meanwhile, we're making the map of the southern part of the Kursk salient ourselves. Soon we'll be able to tell you more about the tank commander and tank platoon commander functionality which will be the backbone of Tank Crew gameplay. 3D models of Soviet and German crewmembers are ready and will be added to the sim as soon as their animations are complete. The scenarios for two, German and Soviet, tank campaigns are ready, so soon we'll start to make the missions themselves. The detailed buildings tech that includes higher detailed 3D models and the physics of their destruction is nearly finished and we had a bit of time to make this short video for you:
To complete this Dev Diary, we'd like to show you some screenshots. First, here is the finished Fw 190 D-9 cockpit. Also, the community enthusiast Martin =ICDP= Catney upped default and official P-47 skins to 4K quality:
Our team wishes you Happy New Year and Merry Christmas. We wish you happiness and fulfillment of all your dreams in 2019!