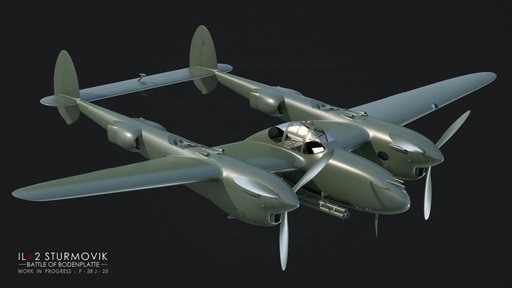 Dear friends,
The Spring has come and in today's Dev Blog, after some delay, we're returning to our main project - Bodenplatte. This delay in the news has been caused by the fact that during the Winter all the work on this project was made at a deep level - it was hard to make a screenshot of something - but it was a hard work nevertheless. This was known beforehand and planned this way. If you were following us for some time, you may recall that such visible pauses in the development news in the middle of a development cycle happened in all our previous projects and are a result of the effective work and division of labor. But today we finally have some intermediate results to show, and there a lot of them.
First, we can disclose more details about the map of the project. Previously we mentioned only its size and location, but today we can tell you more information.
There will be more than 200 settlements of various sizes.
Air forces of the opposing forces will take off from more than 100 airfields.
The total length of all roads will exceed 20000 km.
The reachable zone of the map is 129859 square kilometers (400.8 x 324 km) while the entire map is 176947 square km (460.8 x 384 km).
The preliminary list of the cities we plan to have ready at the time of release follows:
Antwerp
The Hauge
Liege
Frankfurt am Main
Dortmund
Münster
Cologne (Köln)
Bonn
Gent
Rotterdam
Charleroi
Amsterdam
Düsseldorf
Aachen
Bruxelles
Arnhem
Duisburg
Essen
Apeldoorn
Maastricht
Again, if you have followed our development before, you may notice that the parameters of the new map are breaking the record once again. This is also the first map to be released with all four seasons simultaneously - a hard challenge for the entire team. To be able to complete the project before the set deadline without compromising quality, our Lead Map Artist Evgeny Isaev has found new methods of development and large cities creation. Also, Evgeny has designed artistic approaches that will not simply repeat the visual quality of the previous maps but will also give players a new visual feel that is characteristic for flying over Western Europe. But enough words, it is time to show you something new - on these screenshots you can see the central areas of Bruxelles, Liege, and Köln:
But these map development news are not the only ones we have. We can show you the progress we have made on the three coming planes: P-38J-25 heavy fighter, B-25 heavy bomber (AI only), and Me 262 A jet fighter. For the first one of them, P-38J-25, we have used a new approach of creating the exterior and interior 3D models in parallel, not subsequently - at the early stage the model is divided into exterior and interior parts and the coordinates of their seams are stored, then both models are being worked on simultaneously to be connected back at the final step. This aircraft, of course, is unbelievable, what can we say - it's a legend:
The B-25 bomber will be AI-only in this project, but we'll try to make its exterior 3D and physical model at the same quality level as our player controllable aircraft. First, this is important for those who will be attacking or defending these planes in the Career mode, campaigns, single scenarios and Coop multiplayer. Second, who knows - perhaps a possibility to make it flyable will reveal itself in the future:
The exterior 3D model of Me 262 A "Schwalbe" is completely done, including the official skins. The interior (cockpit) model is almost done (currently the artists are working on its texturing), while our engineers are working on its FM and the physical model of a jet engine. When you look at this legendary aircraft, you can't help but think that it was ahead of its time:
To finish today's Dev Blog, we would like to congratulate the beautiful half of humanity on the coming holiday - International Women's Day. Dear girls, be happy!