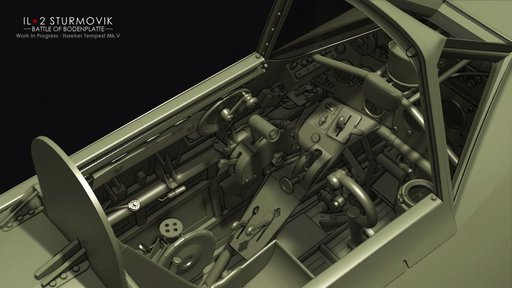 Dear friends,
The Summer is in full swing and we're working on finishing the Bodenplatte project. P-51D, P-38J, B-25 and Tempest 3D models are nearing completion, their textures are being made right now. Today we can show you the cockpit of Hawker Tempest Mk.V:
As we announced before, all Bodenplatte planes will have 4K external textures. Here are Bf 109 G-14 shots that show the texturing made by Martin =ICDP= Catney:
In addition to the models, we're working on the important features like more detailed pilot's physiology effects. Fatigue caused by a high G stress, (in)ability to bail out and other such things. After that, we'll get to repairing, refueling and refitting the aircraft on the ground.
At the moment we're moving to a newer FMOD version and our sound designer converts all the sounds to the newer sound engine. The main result of this work should be a fix of the disappearing sounds issue after playing for a while that was caused by having too many of them. We also started the research on making the aircraft and ships visible from several times farther distances. This task is very complex since it involves many various parts of the project - we can't make it at the cost of a significant performance loss in the graphics and network subsystems.
The work on the Bodenplatte map is nearing completion and we'll be able to show you the screenshots showing the result of this tremendous work soon. This also means we started the work on the Career mode for it that will be called Battle of Rheinland. Starting on September 17th, 1944 and ending on April 1st, 1945, it will include several new mission types characteristic for this timeframe on the Western front. All the required information - squadron histories and emblems, pilot biographies, awards, news, etc. - was accumulated with the help from our community members and we're very grateful to those who participated in this task.
Another important thing we must tell you is that American, British and German infantrymen models for Bodenplatte project are finished - they will man the guns, drive the vehicles and appear as airfield personnel. And here's the model of the Royal Air Force pilot for Summer of 1944:
Now let's talk about other our projects. For Tank Crew, the next update will bring Pz.Kpfw.IV Ausf.G that has autonomous electric turret turn mechanism for instance. And in September we plan to release the two scenario campaigns for Tank Crew - Breaking Point and Last Chance, telling about the fighting near Prokhorovka. Players will be able to participate in the battle from both sides. Today we can show you the title art for these campaigns that were created using in-game tank models and the screenshots of Pz.Kpfw.IV Ausf.G in the sim.
The next update is planned to include two - actually four - new aircraft for Flying Circus - Halberstadt CL.II, Halberstadt CL.IIau, Bristol Fighter F2 Falcon 2, Bristol Fighter F2 Falcon 3. After that, to complete this project we'll have to release Amiens-Arras-Lille map that will come with improved visual models for ground vehicles. Here are the screenshots of the coming planes: