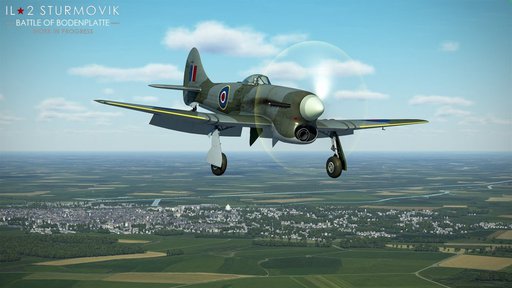 Today I'd like to tell you a story about how our Tempest Mk.V came to be. Every once in a while, I get to stop being a producer and just be a fanboy and add something to the simulation to fulfill a dream. When I saw how well our Spitfire Mk.Vb turned out, I knew I wanted a Tempest added whenever possible. There is something very cool about these British birds. I knew a Tempest built by our team would be awesome.
I've always thought the Tempest was really an awesome warplane. It just looked tough and mean with that huge air scoop under the nose of that powerful Sabre engine. It appealed to me as the perfected sibling of the legendary, but initially troubled Typhoon. The Tempest represented the pinnacle of piston powered late-war aircraft. The type of Allied fighter that could beat the best the Luftwaffe had and put the final nail in the coffin. As an American kid, the British Tempest looked uniquely cool and somehow different, but I could only see pictures in books and read about them. I never got to see an actual Tempest in the air. Unlike Spitfires and Mustangs, so few examples survived their service and performed to airshows in California where I grew up. So, when the opportunity came much, much later in life, I decided I wanted to fly one built to our specs in our engine with our team. Now it's finally time.
From the first moment I decided we should make the Tempest, I knew building it would be a challenge. I recalled from the days of IL-2:1946 that there was a real lack of quality references to make the plane to a high degree of detail, both in its physical shape and the engine's performance. That Tempest model is a great accomplishment as well and I remember the enthusiasm that accompanied it way back then. I knew it would be the same difficult road today for our Tempest without a real effort and help from other people. And luckily, that is exactly what happened. Thanks to total strangers and friends in the community, this mission has been a successful one. In the past, other such endeavors have failed, so I am very excited that this one did not.
1CGS Office Las Vegas, NV U.S.A
Last year I put out a call on the forum asking for help locating information and references for the Tempest. The community responded in force, and I was able to quickly get a grasp of what was out there. This got the ball rolling and I bought the team several books, drawings and sourced any operator manuals that were publicly available. I also learned what actual airframes existed and I started to try and make contact with their owners.
Fantasy of Flight in Lakeland, Florida U.S.A.
My first bit of luck was successfully making contact with Flight of Fantasy outside Orlando, FL thanks to social media. Fantasy of Flight is home to the famous Kermit Weeks, who's videos of him flying many different aircraft on YouTube is legendary. I took a trip to Orlando and drove out to FOF to see the two Tempest airframes they have there. They have a Mk.V and a Mk.II. I was informed that the Mk.V was a front line WWII bird, but it had crash landed in the Netherlands and was recovered, but then turned into a test airframe for refurbished Sabre engines at a repair depot. I was told the Mk. II airframe was one of the prototypes. Both are in various stages of restoration, but the project manager was retiring in a matter of days and the planes were going into a crate and locked away for who knows how long. Matter of fact, a lot of the plane was already in crates! I had to act fast.
I made it to FOF just in time and met with Andy, the gentleman who was retiring the next week. I learned as much as I could from him about the Tempest airframes they had and took lots of pictures for our modelers. Here is a sampling of what I saw there, which was two airplanes in bits with the wings and an incomplete fuselage. I was stressing this would not be enough.
Fantasy of Flight has a great collection of aircraft and I highly recommend visiting it if you are ever in the Orlando area. It's not a far drive from Disneyworld. Lots of interesting and rare aircraft in great condition. The staff there is great and really helped us out and they are willing to do so again in the future. A great outfit.
RAF Hendon, London, England, UK
My second bit of luck was successfully making contact with the RAF Museum at Hendon. This took some real doing and I must thank community member EAF19_Marsh aka Ed for helping get me in touch with the right person. It looked grim and I was extremely frustrated with Hendon at one point, because I knew they had the missing piece of the puzzle, but they just were not responding to my requests. However, in the end it all worked out and Ed's effort helped get things moving. I hopped on a plane to London and took the London Underground for the first time to Hendon. There I saw a real complete Tempest Mk.V in the flesh. Airframe NV778 was a former target tug, but other than the unique target tug equipment it was the exact airplane we needed. Here are some pics of it at Hendon. My worry was starting to subside, it looked like we could make the Tempest after all.
I also encourage anyone who visits London to go to the RAF Hendon museum. Their collection is awesome and includes some real gems. The Lancaster bomber there is extremely impressive! Makes the B-17 and B-24 look small. The crew at Hendon did us a real solid. Please show them your support and thanks for helping us out. A special thanks to Ian Thirsk, Brendan O'Gorman and especially to Tim Bracey for his assistance in accessing the Tempest.
While I was in London I met up with a few IL-2 community members and had some beer and some chat. Thanks to Custard, Herne, Elem and Royal Flight and a few other gents which I embarrassingly can't remember their names of so many months later. My apologies. I had a great time with everyone even though I had caught a nasty cold. I felt awful and I apologize to everyone who came for not being my usual chatty self. Why is beer so warm in England? What's up with that?
Typhoon Legacy British Columbia, Canada
Getting pictures for the Tempest model was a huge step, but what about other things like flight data, engine data and operator manuals? Without some kind of understanding about the performance of the plane we'd just be guessing and users would not be happy. Well, shortly after my original call for help on the forum I was contacted by community member [IV./JG54]Croquemou aka Nicolas who works on the Typhoon Legacy project. They are restoring a Typhoon and they had lots of useful info and references for us about the Tempest and Napier Sabre engine. They were kind enough to share this information with me and I passed it onto the Sturmovik engineering team. We acquired official manuals, parts lists, drawings, engine test data, flight-data and other small bits of info that should help us make the Tempest fly in a realistic fashion. Special thanks to Nicolas and Ian Slater for their help in acquiring this important information.
1CGS Office Moscow, Russian Federation
Armed with all the information and pictures I could gather our modeling team went to work building the Tempest. It took quite a while, but Phil really did an excellent job capturing its shape and he somehow untangled the complicated cockpit structure to create what I consider a masterpiece.
Here is Phil's take on building the Tempest, "Each aircraft is unique, even within the same series, there will always be small differences. Working on a visual model of Tempest was not a challenge, but unlike many others, there were features that I could not foresee. The unique designs and decisions of British engineers were of great interest to me in the process of studying this aircraft, but, in turn, covered with the lack of references that were high enough for modeling, was affected by the great stress in the process of creating this war bird. Spatial frames, many open cabin panels, non-standard solutions of simple assemblies, many details, confusion of differences in series, all this at certain times became difficult, but no less interesting.
Starting with the external model of the fuselage, you feel like a sculptor, deriving smooth contours, wide and graceful wings, a streamlined body - all this contrasts with the cabin, reminiscent of some kind of chaos of scattered parts, wires, hoses. One got the impression that this was done not at the factory, but in the field, or in the form of a prototype. But this style is observed in many British warbirds - Hurricane, Spitfire, and others.
For me, the artistic process is inextricable with the study of not only visual references, but also the design of how it works and what it was intended for. Understanding the internal processes and historical decisions gives many details that affect the final result. You can also find interesting comparisons in the future. For example, I often find similar solutions in other planes of other countries. For example, in the Yak-9 - this is unbelievable, but there are many similarities with Tempest. Or at one time I found interesting comparisons in the models of Foke-Wolf Dora and Soviet Lavochkin LA-5.
Returning to Tempest, I would also like to note that once it was one of my favorite airplanes. As a child, I often riveted such airplanes with large "beard" air intakes, but then cooled down to this design. Work on Tempest revived this love in me, and I hope you all will like it, and you will also feel the power of this bird. Feel the smell of fuel and oil. And shooting down an enemy plane you will feel like those heroes defending your country!"
Any time we create an airplane model from scratch under our tight deadlines it's a struggle to include all the necessary details without blowing up our polygon and texture budget. Lucky for everyone, Phil somehow got it done!
Next came the flight model work and our engineer Alex dove right in. Even with all of the data I gathered, there is still some mystery surrounding the Tempest's Sabre engine and certain engine limits and performance characteristics.
Alex says, "The Tempest is a bit of a mystery plane in history. Not a lot of books and no flying examples like you get with say the Spitfire. There are several different versions of performance numbers in the data we collected and trying to weed through all of them and find the truth was a challenge. In cases like this, our aero model and our systems start to tell the story instead of the data telling us, which happens on more well-documented planes. It's a bit like a detective story. We search for the truth with our advanced aero modeling and see what starts to line up. As I measured its shape and entered more and more data points into our aerodynamic and power models, its real flight envelope began to emerge and it began to line up with one or more of the data sources. The end result is a really great war-winning airplane that Allied pilots are going to like and we think is the most accurate Tempest ever made for a PC flight-sim."
With the info we gathered, the Mk.V sub-variant we decided to build is the Series II with the Sabre IIa engine. The initial results of FM tests are very promising for fans of British airplanes and Alex has done another outstanding job. The Tempest is indeed a deadly plane and British pilots were lucky to have her.
Without further delay here is a short movie featuring our Tempest Mk.V in Beta testing. As always, all textures, markings and even its performance are still a work-in-progress. We hope you enjoy and THANKS to everyone who had a hand in our research and its development. Truly an international effort by a wonderful community.