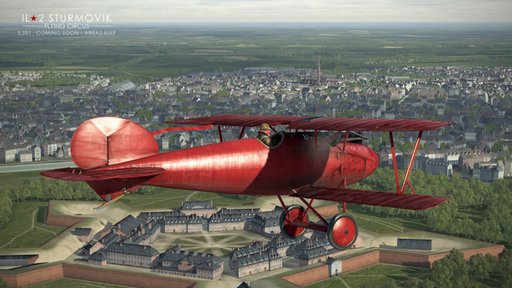 Hello everybody,
The next update 3.201 will be released really soon. In the previous Dev Diaries, we told what it will bring for Bodenplatte, but it will also contain many improvements for other projects as well. Let's start with Tank Crew.
The first important feature (not only for tanks, but it is especially important for them) is the new occlusion system for object markers. Now ground and aerial object markers will be occluded by other moving objects, cockpit elements, hills, trees buildings, etc. It should really pump up the tension of battle even in the 'markers on' mode.
Second, we have changed the way a turret (or closed sights MGs like bow MG-34) is steered on all tanks, now it moves like on M4A2 before and there is a special overlay indicator showing the set turret direction.
In addition, all the Tank Crew player controllable tanks now have improved engine startup procedures, both visually and audibly. Pz. IV and M4 have autonomous turret traverse mode working with effects and animations. The tanks handling has been improved. Many of them have their interiors and some exterior details updated.
Two historical campaigns set near Prokhorovka designed by Alexander Timoshokov and Victor Sechnoy are finished and their beta testing should start next week along with the commander interface for controlling the crew and an entire platoon. To create correct mission scenarios, a lot of effort has been put into research - just their briefings have enough text to fill up 40 book pages. Ground AI improvements required a lot of time as well. We plan to release these campaigns to all Tank Crew owners in October.
Now onto Flying Circus. The coming update will include the Arras area map (1918). The cities, towns, and airfields recreate the atmosphere of the era believably. The designers paid special attention to smaller details in the airfield buildings. The towns have trade squares, suburban blocks and more detailed factory areas. There are barbed wire and dugouts on no-mans-land. Together with the latest technologies available in IL-2 engine, the new Arras map will give the aviators of the Great War the next level of immersive flight and dogfights above the Western Front positions.
Returning to Bodenplatte, we're glad to report that we have found the means of increasing visual quality of Tempest Mk.V even more. Since the end of Summer, our artists worked on the texturing and materials and you can see the result on these screenshots.
The aircraft released in the previous TOWs also gets attention - Battle of Stalingrad owners will see IL-2 mod. 1942 and Bf 109 G-2 skins updated to 4K quality thanks to Martin =ICDP= Catney and Neeraj =BlackHellHound1= Bindraban. But not only visuals are being upgraded for our previous projects - we're also working on some sound improvements. For instance, DB-601 and BD-605 engine sounds installed on Bf-109s and Bf-110s will become more realistic in 3.201.