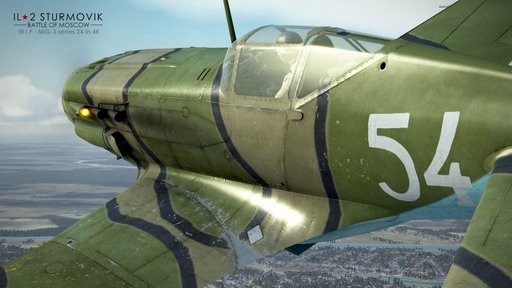 Hello everybody,
While working on the Normandy project and finishing Tank Crew, we never forget about the existing ones. Not only the most part of all the improvements we release in the updates are applicable for the simulated world as a whole, meaning they update all our theatres of war at once, but we update the content of the existing modules at every possibility as well. For instance, we'll be able to show you the first WIP screenshots of the new Soviet pilot soon. And in the next update, among many other things, you'll see two more aircraft updated to 4K texture quality standard.
The first one of these two planes is the MiG-3 series 24 that is included in the Battle of Moscow. It's external texturing has been reworked by Martin =ICDP= Catney - it should be noted that wear, specular map, micro features and damage textures were updated in addition to the paint schemes. The plane materials were corrected as well for more natural-looking glare and finish.
The second one is Bf 109 G-4 from the Battle of Kuban that has been reworked by Francisco =BlackHellHound1= Bindraban. Artists did not just redraw the textures in 4K quality - they do the research on the aircraft details and peculiarities of all known paint schemes and add many changes and improvements (sometimes even completely replacing one historical skin with another if needed). So everything possible is made to make the existing 3D models brand new, unlocking the potential our constantly updated renderer offers.