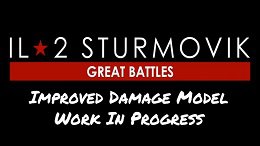 Hey everybody!
We hope you are hanging in there and staying healthy! While we're stuck inside our homes trying not to get sick I thought you'd enjoy some footage of our improved airframe damage model in action. These clips show how our wings are much stronger than before and how our improved damage calculations cause a myriad of failures that can bring down a plane, or in some cases, maybe allow you to limp home. Please note that the engine damage was turned off for this video as we are currently concerned with the airframe and how it behaves. Remember just because a plane takes a physical beating, doesn't mean all the systems are functioning. A knocked out plane may keep flying for a little while, but it is likely not going to make it home or stay controllable. My point is don't get too hung up on some of these planes surviving multiple HE hits. One good placed burst and your day is likely ruined, but your wings should not fold like a bad poker hand. Larger planes and historically tougher planes now have a better personality to match their reputation.

I pieced this video together in a hurry, so the commentary may not be the best and some of my American humor may get lost in translation. I hope you enjoy this little distraction during this crazy time. Our airframe damage improvements will be in the next update before the end of March.
My gunnery stinks I know. All AI is basically on Novice so I can actually catch them and hit them. These were just simple furball missions.
Try to have an enjoyable weekend everyone! And remember our Promo Codes are still good!!
Jason
P.S. I have been asked what I filmed this on. Intel i7 7200K 4.2ghz, 64Gb RAM, SSD, 20280Ti, 4K res on Asus 43" G-Sync monitor (120hz Refresh / 144hz OC). Ultra Graphics maxed. Average FPS 90-120. Captured with DXtory app at 60fps at 50% size which is 1080p.