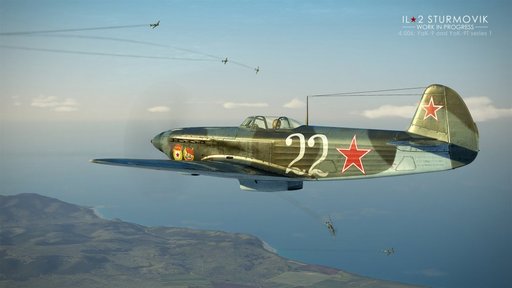 Dear friends,
Update 4.006 will be released soon and we can show you more of the coming improvements. Today we'd like to demonstrate how the aircraft materials and textures will look in the new renderer compared to the old one. For instance let's look at La-5 series 8, He 111 H-6, P-38J-25, Albatros D.Va:
We also have good news about the changes in 4.006. First, the airframe damage model for the WWI planes will be tuned according to your feedback. Second, the ships in the sim will have more advanced physical models - they will be able to run aground, receive an impulse from collisions, etc. - this is important for the Battle of Normandy where they played a major role. Third, according to Tank Crew players' feedback, we added a server option to disable tank AI gunners in multiplayer. Another option that has been requested for a while - now tech chat messages are a difficulty option so the players will be on equal terms in multiplayer.
Our engineering department improved the FM and systems modeling for a number of planes, including Yak-7 and Bf-110. Tank Crew assault guns will be able to fire indirectly at a heading and distance set by the gun or platoon commander. In the graphics department, we're adding an alternative antialiasing method, FXAA, which trades some AA quality for a noticeable performance boost. It also has a side effect of somewhat improving the visibility of the contacts against the ground, especially when used in conjunction with the "Sharpen" graphics option. Several planes from already released modules will get the 4K quality external textures and the rivers and sea will get the updated water surface visualization.
As usual, the full list of the changes and improvements will be available at the update launch and it is already close to 70 items total. We're hoping that the next update will be another step forward in the development of the project and you, our customers, will enjoy it. And to finish today's Dev Blog, here are a couple of Yak-9 and Yak-9T Collector Planes screenshots from our Producer: