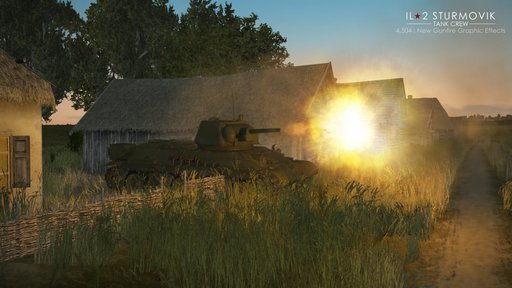 Dear friends,
As you know, the long-awaited Tank Crew - Clash at Prokhorovka was released officially recently. This is a very important milestone in the development of the IL-2 Great Battles series even if it has deviated from the aviation theme a bit. However, those of you who read our Dev Blog regularly know that the tank project development contributed to the aircraft features immensely. And while today's Dev Blog is dedicated to tanks, in the near future all the aircraft in the series will benefit from both things we'll tell you about (3-dimensional visualization of the terrain unevenness and graphics effects improvements).
First, though, we'd like to show you the new Tank Crew promotion trailer created by =HH=Pauk. It showcases the main features we focused on with our partner Digital Forms during the development - operations of the realistically looking and accurately modeled combat vehicles on the real terrain that were recreated according to historical documents of the Prokhorovka battle and the events immediately before and after it. Taking into account the two bundled historical campaigns, it is a massive historical reconstruction of the tank actions in that area. Here it goes:
It is well-known that we continue the improvement of our modules long after their official release dates, that's why we keep them in one 'package', so all the modules shared the newest benefits of the sim core. The ground roughness that affects the tank movement, but was modeled only physically before, will become a visual feature in the next update. You'll see that the small ground ups and downs look realistic and improve the overall visual image. This also affects the aircraft in case of an emergency landing in a field. The second addition is the set of newly developed gunfire visual effects for the detailed tanks - their guns and machine guns. Before all the gunfire effects looked similar, but now they'll differ depending on the muzzle brake and the power of the gun. We plan to do the same for the aircraft guns of the planes in development and later on for the previously released ones. This video demonstrates the new effects better than many words can:
Enjoy!