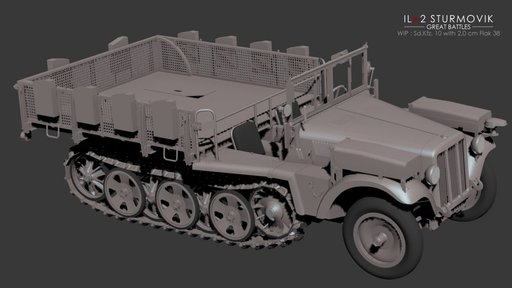 Dear friends,
Another year is ending. This one was tougher than usual, but the team has managed to do without losses and meet all the planned goals nevertheless. The work on Normandy is going well and soon we'll be able to show you the screenshots of the unique buildings and ground vehicles being developed especially for it. It will be a while before new aircraft are released because several of them are at the same stage of development at the moment, but in Spring we plan to release a number of player controllable content we're preparing right now. This, however, doesn't mean we won't release anything new till that moment - as you know, we're constantly improving the project in all its aspects and we plan to release some of the improvements sooner, in big updates before that.
One of these improvements is 4K texturing for I-16 fighter created by Martin =ICDP=Catney. In addition to this, we're always glad to have more people improving the project and one can spot a result of the new collaboration on these screenshots. We won't disclose all the details of the coming surprise right now but we're sure you won't be disappointed.
The player controllable self-propelled AA guns saw good progress lately. A new system of visualizing the tires, not less interesting than the one previously developed for tracks, is in the sim already and we'll show it to you soon. The model of wheeled and half-track propulsion is also ready and gets the final touches. In the meantime, our partners at Digital Forms made significant progress working on the second object of this pair - German Sd. Kfz. 10 half-track with 2cm Flak 38. We already can show you the WIP screenshots of it along with a Luftwaffe soldier in Winter uniform:
To finish today's Dev Blog we want to show you the progress that was made on the fascinating bird, one of the planes that are in development for Battle of Normandy - Typhoon Mk.Ib. This legendary aircraft is planned to be released in late Spring 2021, it will be the third one of the Normandy planes that are planned to be released before the Summer. This concludes the last Dev Blog of this year, see you in 2021! Merry Christmas and Happy New Year!