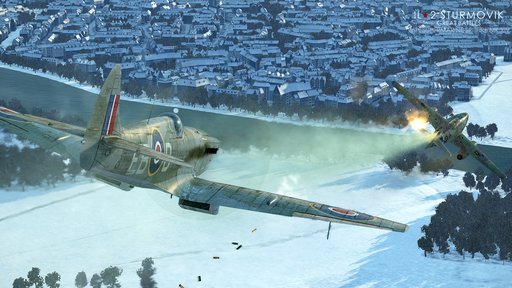 Dear Friends!
Work on our next update, which is version 4.6 continues as planned and should be released before the end of this month. This update will be a pretty big one with new content, some new features and lots of small tweaks as usual.
We also continue to make new airplanes and other models that will be incorporated into the sim this year and beyond. Work never slows down for us as you know. Today I'd like to share some screens of ongoing work that you'll enjoy as we finalize the next update.
Here are some images that help demonstrate our DVD system for our tanks and AAA vehicles along with our Tactical Codes technology. DVD definitely adds another interesting layer to our damage modeling.
Work on the Normandy map is going strong and here you can see some towns that are taking shape. The terrain textures are not final and borrowed from the Rhineland map at the moment.
And here's the terrible vengeance weapon that terrorized Great Britain for many months during the war - the Fieseler Fi 103 or simply the V-1 "Buzz Bomb". The British sarcastically nicknamed it the "Doodlebug", but there was nothing cute about them in reality. It was the world's first jet powered cruise missile, and it was a deadly, dangerous weapon that fell from the sky at seemingly random locations with little or no warning. About 8,000 V-1s were launched against Britain with about 2,400 of them getting through the defenses. Over 6,000 people were killed and many thousands more wounded by them. Over 44,000 Allied sorties were flown to try and intercept them along with the flak batteries that tried desperately to knock them down. Truly a flying terror. You'll be able to simulate intercepting them before they are able to strike their targets along the southern coast of England when the BON map is ready. They were also used against targets in France and Belgium in smaller numbers as the Allies advanced.
We also have added more railyards to BOBP cities and here is the current list that has increased to a total of 19. We apologize for not having pictures of them, but COVID has decided to interfere with this operation. Just a reminder that we are not totally out of the woods yet with the pandemic.
Antwerp
Liege
Mainz
Frankfurt
Bonn
Cologne
Disburg
Brussels
Charleroi
Dusseldorf
Munster
Koblenz
Eindhoven
Tillburg
Nijmegen
Essen
Enschede
Hengelo
Osnabruck
And before we end this DD, here are three new posters Jason has created featuring all three Spitfire variants found in Great Battles including the new Spitfire Mk. XIV. We hope you enjoy this artwork.
Spitfire Mk.VB Poster
Spitfire Mk. IXe Poster
Spitfire Mk.XIV Poster
And of course, here are a few pics of the upcoming Spitfire Mk.XIV and Nieuport 28.
Enjoy your weekend everyone and stay safe!
The Sturmovik Team