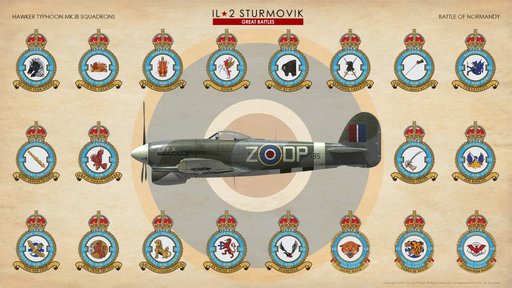 Dear Pilots!
Behold the mighty Typhoon Mk.Ib in action! Coming soon to Battle of Normandy! It is now in Beta and is scheduled for release in June. It's another beauty by our talented team. This beast is armed with 4 x 20 mm Hispano cannons and can carry multiple rockets like the RP-3 in HE and AP flavors or a pair of 250 lb. or 500 lb. bombs. The cockpit is another tubular framework popular with British designers of the period. It just looks angry with those rockets slung under the wings!
The Typhoon Mk.Ib helped pave the way for the Allied invasion of Normandy and soldiered on throughout the war pounding German ground units at every opportunity. We will feature no less than 21 Typhoon squadrons in our Normandy career with 4 of them flyable initially.
Jason has created another special poster. This time inspired by the beautiful emblems of Typhoon-equipped squadrons. These emblems were created by our artwork partner (and newly minted rocket engine engineer) Isaac "SolidKreate" Chavira.
Full Size Poster HERE.
We hope you enjoy these screenshots. They were a blast to make.
Also in the works for the Battle of Normandy is the solid nose Junkers Ju 88 C-6 which will make for an interesting maritime patrol and ground attack aircraft. Is it as effective and versatile as the American A-20B has proven to be? We shall find out!
And finally, we have built a big 380 mm gun that was known as the Todt Battery. In Battle of Normandy, it will try, and in real life it really did try to pound the Allied invasion forces into oblivion. During the real invasion it stayed operational until late September 1944 when it was finally captured by Canadian troops. Check out this short video as we test its animations.
In other important news - next week, we plan to make an announcement about some additional content we plan to add to the Great Battles series, we hope you will be happy. Stay tuned!