Announcing the flyable C-47 with Pre-Order and plans for the Li-2, Sopwith Snipe and Siemens-Schuckert D.IV!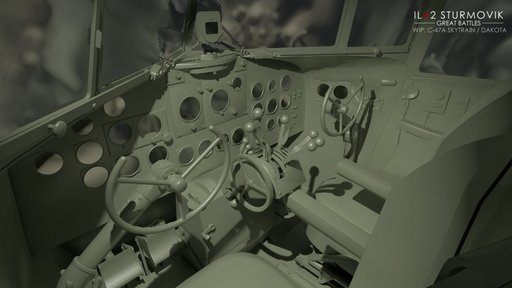 Attention Pilots!
It is our pleasure to announce some new Collector Planes for the IL-2 Sturmovik: Great Battles series! We are still waist-deep in Battle of Normandy and Flying Circus Vol. II development, but we have decided to push on with our partner Ugra Media and bring you a few more iconic and important aircraft! The following planes have long been discussed as possible projects or desired by community members and now we are able to make the commitment to build them. So, without further delay here they are.
C-47A Skytrain
Lisouov Li-2 (Soviet version of the DC-3/C-47)
Sopwith Snipe 7.F1
Siemens-Schuckert D.IV
First, let's cover the C-47A. We already have the C-47A as an AI piloted aircraft in Great Battles. Many of you have requested that we make a cockpit for it and make it flyable, so we are. This will give the Americans and British a cargo plane, much like the Ju-52 on the German side. The Ju52 has been a good seller for us and a unique experience for fans of IL-2. We want to do the same with the C-47. The C-47 is the military version of the venerable Douglas DC-3 which first took flight in the 1930s and served all over the world during WWII and very far beyond. Most notably it was the main troop transport for American and British paratroopers during the invasion of Normandy. As you have seen in an earlier Developer Diary, we have already built some awesome-looking U.S. Army paratroopers that will jump from C-47s in BON. We are also making British paratrooper models as well., but they are not ready to be shown yet. The C-47 will provide a great new way to fly for the Allies.
Work on the C-47 cockpit has already begun so we have decided to open Pre-Orders today as is our tradition for new Collector Planes in development. Please show the 'Gooney Bird" your love! Pre-Order is available in the IL-2 Official Webstore for just $19.99- a 20% discount off MSRP.
Second, let's talk briefly about the Lisunov Li-2. The Li-2 was a license-built Soviet version of the DC-3/C-47. It served bravely over the Eastern Front with the VVS and was even used as a bomber by the Soviets. Although it is seemingly identical to the C-47 it does have several differences, so extra work is needed to convert our C-47 into a Li-2. Our partners Ugra Media will begin this work once the C-47 cockpit is well in-hand. The Li-2 had different engines and cowlings, different instruments, a different cargo door and other small changes. Some also had a dorsal-mounted gun turret for self-defense. The Li-2 will be a welcome addition to our Eastern Front themed titles. We will offer the Li-2 for Pre-Order as soon as work has officially begun in earnest.
The C-47/Li-2 holds a special place for us because it represents cooperation between the old Soviet Union and the USA, which for a team of Russian developers and an American producer is a historical metaphor for our own team.
Next, we will also partner with Ugra Media to create the British-built Sopwith Snipe 7.F1 fighter. The Snipe was a late entrant into the Great War, only coming to front-line service in the Summer of 1918. However, it was a successful aircraft and helped the Entente fight off the of the terrific late-war German designs in the final months and weeks of the war. The Snipe will be the first truly new WWI aircraft we committed to in a long time and this will bring a new combat experience to Flying Circus Volumes II and III. Pre-orders will be available once the Snipe has entered production.
Finally, Ugra Media will build a late-war German fighter as well – that being the Siemens-Schuckert D.IV. Like the Snipe, it entered the war late, but was a terrific design and will be a deadly opponent for the Snipe and other Entente fighters. This plane will be a challenge to make as references are tough to come by and we don't believe any original examples survive today. However, we love a good challenge and plan to make this bird take flight just like all the rest. It's interesting to see the similarities of the Snipe and SS.DIV designs with their compact bodies which we would imagine makes them quite maneuverable. When work begins, we will give you a chance to pre-order the SS.DIV.
All of these new planes do not have an impact on current development timelines for BON or FC2 and FC3 as we have been planning to make these aircraft for a while. We will work once again with our long-time partner Ugra Media to bring them to life in another team effort, much like we did for the famous U-2VS.
We hope you enjoyed hearing this news and we look forward to bringing these fantastic aircraft to the Great Battles series!
See you in the skies!
The Sturmovik Team and Ugra Media