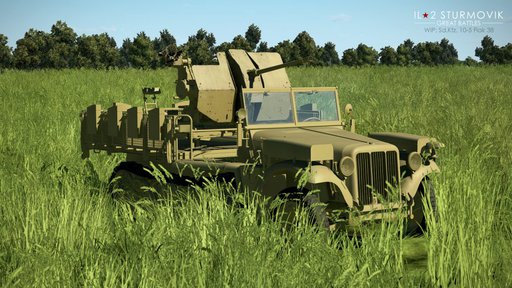 Hello Everyone!
This week we are showing a Dev. Diary a little early because we have some vacation and Covid-related holiday time that interferes with our normal routine. So, before we take a little time off, here are some quick shots of the German Sd.Kfz. 10/5 Flak 38 in the actual game engine. As you can see the textures are not anywhere near ready, but it is starting to become functional including some of the damage model and the gunsights. Once again, our partners at DigitalForms have done a terrific job on the model.
In the images below you can see how a machine gun from a Soviet armored car shot up my engine and ended my mission. The sights on this German gun are quite different from the Soviet 72-K and maybe it's a bit more user friendly? You'll have to be the judge when you try it, but it sure is fun trying to knock down planes with either gun!
Again, the textures are not done and this is just an early Beta example and we wanted to show you that progress is being made. The Sd.Kfz. 10/5 Flak 38 will be ready for action later this summer.
In WWII aircraft news – the P-51B/C is scheduled be the next aircraft released as we work on other things like the V-1 'Buzz Bomb'. The P-51B/C will be released late summer; the exact date is unknown at this point, but we'll have updated pics for you just as soon as we can.
In WWI aircraft news, Ugra Media is hard at work on several FC2 planes and the map, but the closest to release is the Pfalz D.XII. She will be ready for our next update.
Recently, when I collected the USAAF squadron emblems for BON, created once again by our friend Isaac 'Solidkreate' Chavira, I was inspired to make another poster. This time for the P-47D-22 with all the USAAF Ninth Air Force squadrons that will be a part of the Battle of Normandy Career. There are quite a few that flew the Razorback during that period.
….. and finally, a shot that you have been waiting a long time to see. A Bf-109 with something new under slung its belly. Functional drop tanks are being worked on for several planes, but it will take time to retrofit the aircraft that need them.
Enjoy!