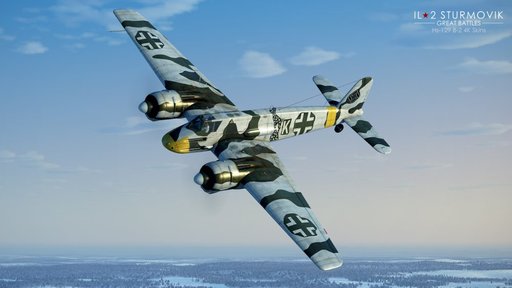 Dear Pilots,
Summer is here and it's very hot in both Moscow and Las Vegas, but we soldier on still working mostly from our flats and homes. This week's DD features just a couple of items, but one is quite a surprise as you will see. But first, let's admire the upcoming 4K skins made by our steadfast ally and partner Martin "ICDP" Catney. The ugly duckling has become a swan with these new textures wouldn't you say?


With the new skins for the Hs-129, we are rapidly closing in on ALL planes in Great Battles being upgraded to the 4K standard. The Yak-1b should be next and eventually, the Ju-52 will also get a refresh. The entire 4K upgrade has been a huge effort on Martin's part as well as the previous contributions made by Francisco "BlackHellHound" Bindraban. Please join me in thanking them for their awesome contributions! A shining example of talented community members helping the developers and an effective international partnership.
And now a surprise that came about very recently, but one that has its roots in Rise of Flight history and one that should end in a positive result for Sturmovik. Today, we share extremely early WIP shots of an important fighter design that saw action against both Soviet and American air forces and late in the war, alongside them. Can you guess what plane it is? There are very few types that have this distinction.
That's right, the Romanian designed and built IAR-80/81 is under development by a third party that we feel has the skills to make it a reality. This will take some time, but we are confident it will come to fruition. Please enjoy this little tease and when we the mesh is further along, we will offer it for pre-order as we always do.
Why the IAR-80/81 exactly? Well, believe it or not, there is a lot of good reference information on this plane, so it is one that is possible to build by a single qualified modeler. A lot of what we do as a sim developer, can be described as the "art of the possible". The IAR is indeed possible to make, so let's do it. And it's a nice departure from our usual plane-set and is often overlooked in the history books. It will be sold as a Collector Plane, but it will certainly add some more historical flavor to the Battle of Stalingrad theater. There are some other planes we are working looking into finding a way to make. Your continued financial support is most important when we try to make new aircraft.
And we continue to work on the new AQM feature, fuel systems with drop tanks, Air Marshal and even improved cloud technology. All of which I hope to show you pictures of in the upcoming Developer Diaries. And Jason continues to work with talented mission makers on new mission content and Campaigns which we hope to have localized and released soon.
On a serious note, the pandemic really slowed us down as we are prevented from being in our office and seeing each other face to face. Working from home is not always ideal for a collaborative effort like developing Sturmovik, but we continue to do our best and fill irritating personnel needs as soon as we can. We had hoped 2021 would bring a quick return to normalcy for us, but sadly it has brought a whole new set of challenges for us as a team beyond the usual technical ones as the pandemic sticks around. So please have patience with us and know that the team is doing their very best under less-than-ideal circumstances.
See you in the skies and on the battlefield!
The Sturmovik Team