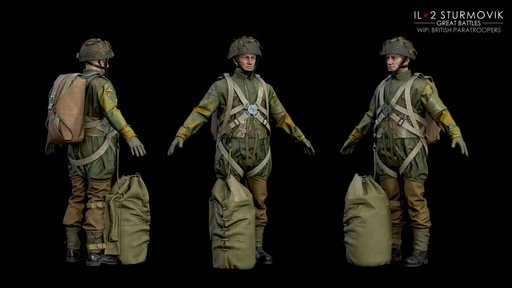 Dear Pilots,
Today's Developer Diary has three cool items to announce.
First, you can't stage a Normandy invasion without some dashing British gents jumping out of airplanes. So, we built some.
Next, we are excited to announce that our next payware historical Scripted Campaign is coming soon and it's called – Steel Birds!
Pre-orders will begin next week!
Created by our master mission-specialist Alex "Blacksix" Timoshkov, Steel Birds focuses on Fw-190 A-5 operations in the Kuban theater in late spring 1943. You'll take on the role of the newly appointed flight commander in 5. Staffel of the II./Sch.G 1. Under the command of Hauptmann Frank Neubert this Gruppe has just completed a retraining program and has relocated to Anapa airfield to support the operations of the German 17th Army.
The campaign is set from April 14th to May 16th, 1943 and is centered around the struggle for a bridgehead at Novorossiysk (Operation Neptune), and two major Soviet offensives in the area of Krymskaya, which ended with the withdrawal of German troops to a new line of defense in early May.
The sharp increase of the Soviet air strength in the Kuban led to one of the largest and fiercest air battles ever on the Eastern Front. In this difficult situation, you have to strike artillery batteries, transport and armored columns, airfields and battle formations of enemy advancing troops.
We'll have more about Steel Birds next week when we formally launch pre-orders for this historical bases campaign. Release is scheduled for August.
Some images from Steel Birds are below.
And finally, we have some images from the new Advanced Quick Mission interface that is coming later this summer. We saved our old "campaign" system technology and have laid it over the existing QMB to give you added depth for missions that can be created quickly. We think this will be an entertaining new feature that will allow you to fly missions with more structure, but not be as big a commitment as the Pilot Career or as simplistic as the QMB battles. This new AQM, alongside our other mission-making tools such as the existing QMB, Pilot Career and Mission Builder, plus all the great third-party apps like PWCG by Pat Wilson and EMG by SYN_Vander gives the Great Battle series an amazing number of options for creating entertaining mission content.