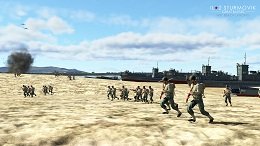 Dear Pilots!
In today's DD we have three new things to show you. First, we have some screenshots of our Normandy Map which is coming together nicely. It's looking very scenic! Second, we have developed the technology to launch a V-1 "Buzz Bomb" from fixed installations. They will make great targets for mission designers. And finally, we have been working on the technology necessary to portray amphibious landings which is necessary for Normandy.
Normandy Landscape
Below are screens from the new map. As you can see there are some rather large cities and towns as well as a variety of different airfield types. The landscape is also very beautiful. Together it will make a very interesting and fun map to fly over.


V-1 Installations
The dreaded V-1 is operational in our project for the first time. V-1 sites were prized targets by Allied pilots and needed to be silenced. The V-1s raining down on the UK in the summer of 1944 were a real problem and caused so much destruction and casualties. Attacking these sites will make for some excellent missions.
Amphibious Landings
And finally, we can't have an invasion without landing craft bringing troops and vehicles to the beaches. In the images below we see some testing on one of our non-Normandy maps. We have found a clever way to make infantry objects that appear pretty convincing. These soldiers can advance and shoot at the enemy and of course they can perish. Just don't ask these little pixel soldiers to make you a sandwich or tea, they aren't that smart.