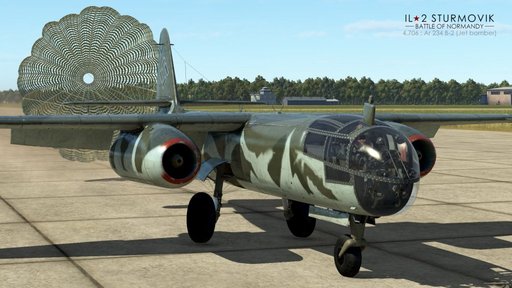 Dear Pilots!
Battle of Normandy is getting closer and closer to that special moment - its release! Testing of the map and game modes will begin soon. New mission types are being created for the Normandy Career. Work is nearing completion on the last aircraft on the project list – the Me 410. All this is happening right now and the work is in full swing. However, at the same time, we try to release those elements of the project that are already ready without delay. So, today, we are producing two aircraft created as part of BON. The first one is the Arado AR 234 B-2. This jet powered single-seat twin-engine reconnaissance bomber is designed to be controlled by the player and has a number of new interesting systems we developed for it. It has a dive-bombing sight, reusable boosters, a drag chute, an automatic aircraft control system ("built-in" autopilot) and many other smaller features that should give you many hours of fun learning about the features of this aircraft.
The second plane is the B-26B-55 Marauder AI twin-engine bomber. Although the B-26 is implemented as an AI piloted plane, the quality of this bird is just as good as all the other flyable ones. We made unique crew animations for it and created a new airborne gunner model (which will later be applied to the B-25, A-20 and C-47). We also, implemented a number of design features of this aircraft. In general, accompanying him, or attacking him, should be quite interesting for you.
In addition to the two aircraft, some of the last AI objects planned for the Battle of Normandy are included in this update: a Bedford QL truck and tanker variant and several landing craft - LCA, LCM and LCT. Work on missions where these ships will play their main role has already begun.
In addition, several other changes were made to improve the project, the list of which can be found below:
1. The German twin-engine single-seat jet reconnaissance bomber Arado AR 234 B-2 is now available for control by all players who pre-ordered the Battle of Normandy project;
2. AI controlled bomber B-26B-55 Marauder, created as part of the Battle of Normandy project, has been added to the project;
3. The Bedford QLD AI truck and its version of the Bedford QLC tanker, created as part of the Battle of Normandy project, have been added to the project;
4. Landing craft LCA, LCT, LCM, created as part of the Battle of Normandy project, have been added to the project;
5. Improved impact of weapons recoil on aircraft;
6. Improved physics of aircraft collision with static objects;
7. Restored the work of AI priorities set by the Force Complete command;
8. Improved animation of flare gun ammo in aircraft cockpits;
9. Mosquito FB Mk.VI series.2 - an artifact has been removed from the windshield next to the wiper;
10. Mosquito FB Mk.VI series.2 - the appearance of the pad on the standard red dot sight has been fixed: the pad from the Mk.III sight displayed on top of it has been removed;
11. Pilot career Battle of the Rhine, for the new aircraft Ar-234B-2, two squadrons available to the player - II./KG 76 and III./KG 76, and one AI squadron Sonderkommando Sperling / 1.(F)/ 123;
12. Pilot career Battle of the Rhine, AI aircraft B-26B-55 added, as well as the following AI squadrons that the player can meet in the career: 453rd BS, 454th BS, 455th BS, 456th BS, 556th BS, 557th BS, 558th BS, 559th BS, 584th BS, 585th BS, 586th BS, 587th BS, 596th BS, 597th BS, 598th BS, 599th BS (BS = Bomber Squadron);
13. Fixed a problem with AI pilots shooting rockets when taking off from the runway;
14. When flying in formation at night, aircraft will use formation lights (RESIN lights on Mosquito FB Mk.VI series.2, formation lights on A-20 and B-26);
15. Achtung Spitfire! Scripted Campaign has been updated to fix an issue with images.