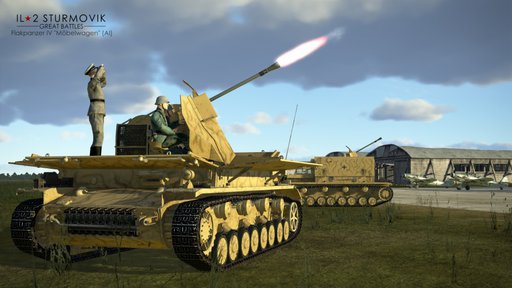 Dear Friends,
Year 2022 is ending and as we're accustomed to, it's time to sum up its results and discuss the future. 2022 was a year of big changes for IL-2 - our team has increased in size and is determined to achieve even more. We have completed nearly everything planned for this year: Battle of Normandy was the most massive release since 2012 and the finishing of Flying Circus Vol.II is in sight. We continue to develop the Great Battles world by releasing hundreds of improvements - some of them are very significant. Before moving on to next year's plan, let's reflect on the Great Battles stats for this year.
We have released 9 updates that brought 365 listed changes and improvements including:
Battle of Normandy release
6 fundamental visual improvements:
New physically based sky dome tech
Realistic visualization of formation lights for all aircraft
Tactical numbers for all aircraft and player controllable tanks
New visualization of propellers for all aircraft
Dynamic Visual Damage (DVD) system applied for all aircraft and player controllable tanks
Numerous revamped graphical effects
Two new huge maps:
Northern France and Southern England (in two variations, with Quick Mission Builder, Advanced Quick Mission Generator and Career modes support).
Western Front, Spring 1918 (with Quick Mission Builder mode support, the other two modes are in development).
1 new scenario campaign:
10 new released aircraft (9 are player-controllable):
Mosquito F.B. Mk.VI series.2
Two new player controllable combat vehicles:
9 new AI controllable combat vehicles:
Bedford QLD (AI)
Bedford QLC (AI)
Universal Carrier Mk.II (AI)
Pz.Kpfw. IV Ausf.H (AI)
Pz.Kpfw. V Ausf.G "Panther" (AI)
Morris C9B with Bofors 40/L60 (AI)
Flakpanzer IV "Möbelwagen" (AI)
M8 "Greyhound" (AI)
Sd.Kfz. 234/2 "Puma" (AI)
7 new ships:
Landing Craft Assault (LCA)
Landing Craft Mechanized (LCM)
Landing Craft Tank (LCT)
Bayfield-class military transport
Liberty military transport
Design 1013 cargo ship
In addition, recently we've released 5.004b hotfix so your playing experience on the holidays will be even better.
Despite all the grim news of 2022, we were able to find a way not only to continue working, but to expand. Probably in the most spectacular way since 2012. The team size has increased by nearly a quarter. We are joined by two new programmers, two FM engineers, two 3D artists and two community managers. And this is only a beginning since we plan to continue the expansion.
All the not-so-easy changes that happened to IL-2 in 2022 allowed us to move on from the old way of thinking that held back our development. The need for changes in the technological base is long overdue. However, the former focus on producing primarily new content did not allow the team to fully unlock its potential associated with the full-fledged development of technology and improving the quality of the sim. The new strategy adopted in the middle of the year, gave us the freedom to choose the direction of development, as well as the opportunity to attract new resources.
There are ambitious goals ahead, and the team is gathering strength and resources to reach them. Here's what we have planned for the next year:
Bring the production of the new large-scale project to full speed;
Complete the development of a number of new base technologies for the new project, which we started working on last year already;
Develop new approaches to the user experience in the next project, taking into account all the previous experience (both our own and that of our competitors);
Continue releasing new content for the Great Battles world;
Add new employees to the team, increasing the number of team members by 1.5 times in total;
Establish partnerships with teams and enthusiasts who will help us in the development of the Great Battles world, as well as in the creation of content for the new project.
It's been a long, eventful year, which we've managed to go through almost in full accordance with the previously planned plans, even building up potential along the way. Interesting and vast tasks lie ahead of us and we're not doubting the eventual success. The work schedule is ready, the strategy is approved, and the team is full of enthusiasm. Clear prop! And Happy New Year!