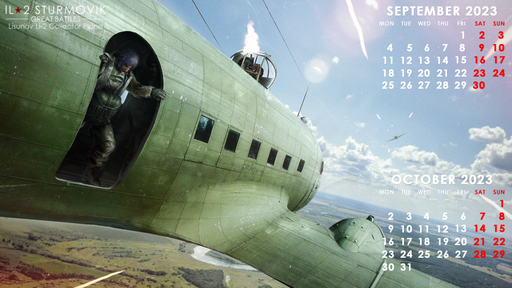 Dear friends,
Today we would like to tell you more about the upcoming update 5.106, which is currently in beta testing. It will bring not only new aircraft you already know about - two new WWI aircraft for Flying Circus Vol. III (the Albatros D.II and the Nieuport 17) and the armed C-47 sibling, the Li-2 Collector Plane - but also new career mode missions and historical campaign updates.
There will be many improvements to the Career Mode missions in this release. Of course, the arrival of the Li-2 means that the VVS will get cargo delivery and airborne operations missions on the Eastern Front, including the new mission of dropping supplies over enemy-held territory at night. Since the Li-2 was also used as an ad hoc bomber, the pilots of the Li-2 will receive bombing missions as well. This actually depends on the regiment you are serving in - GVF (Civilian Air Fleet) pilots will get more transport missions, while DD (Long Range) regiments will be tasked with bombing missions more frequently. Opponents flying 'Auntie Ju' Ju-52s will get slightly more fighter escorts for Stalingrad missions. IL-2, U-2VS, Bf 109 E-7 and Ju-87 (II./St.G 1) pilots may be assigned to artillery spotting missions: those serving in 811 ShAP may even get something unusual - spotting small ship guns.
Your comrades on the western front will not be forgotten: New Intruder missions will be added for the Mosquito, Tempest, Typhoon, and Me 410 (various variants including lone and night attacks). Pilots of the 401st FS will see more escort missions available to them during the defense of Bastogne and Operation Varsity, as well as RAAF pilots of No. 453 Squadron during the days of Market Garden. Spitfire XIVe photo reconnaissance missions are also varied. You may be tasked with reconnaissance of an enemy-controlled port, an airfield, part of the front line, or a specific target.
There are also fixes such as correct target acquisition by ground spotters. Wingmen can now climb better with a bomb load. Allied escort aircraft in Normandy career missions will appear from the direction of England.
Historical campaigns that many of you love will also get attention - Hell Hawks and Ten Days of Autumn campaigns will be updated with tactical numbers for all aircraft, mission script corrections, and in the case of "Ten Days" will even have 30-100% more aircraft and vehicles thanks to the fact that an average Simmer PC has become more powerful. P-47D-28s will get the 386th, 387th and 388th FS liveries. These are in addition to the existing liveries. Several other campaigns will be updated as well.
Hopefully, sooner rather than later, the update will arrive this month. In the meantime, we hope you'll enjoy the new calendar. It shows this American-Russian gunship in action (4K version).