Update 5.106: Lisunov Li-2, Albatros D.II, Nieuport 17, Many Career Mode Improvements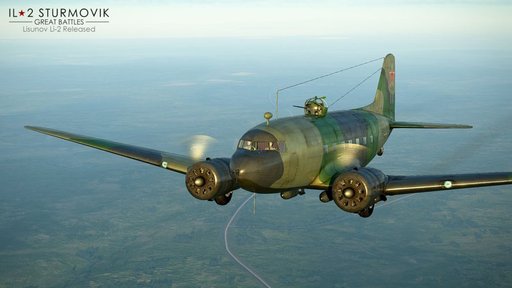 Dear friends,
Update 5.106 has been released! It brings three new aircraft, many improvements to the career mode and several historical campaigns, and other changes. In addition, two of the campaigns that were previously only available on our website are now available on Steam.
The three new planes are the armed sibling of the C-47, the Lisunov Li-2 Collector Plane, and two new additions to Flying Circus Vol.III Early Access - the German Albatros D.II and the French Nieuport 17 fighter.
The Lisunov Li-2 was a Soviet version of the DC-3 built under license. Although it looked similar, it was quite different from the original because it was adapted for Soviet production - all measurements were converted to metric, it had different instruments, cargo doors, landing gear, even the engines. This Soviet C-47 sibling was like a gunship wannabe - in addition to being able to carry bombs, it had turrets AND a forward-firing machine gun. Normally, going the "jack of all trades" route means sacrificing something in each trade, but the USSR needed versatile aircraft. While the Western Allies had plenty of long-range fighters to cover their bombers and unarmed transports during the war and enjoyed air superiority most of the time, the Soviet VVS usually did not have that luxury.
The D.II was the first in the pantheon of legendary Albatros fighters. It became the symbol and icon of the fighter plane in the Great War. The rapid mass production of Albatros fighters allowed Germany to maintain air superiority until April 1917. "Bloody April" has become synonymous with the heavy losses of British aircraft in 1917. Its pilots noted the good power of its twin machine guns, good forward and upward visibility, responsive handling, high speed, and impressive rate of climb. The fighter took part in battles all along the Western Front.
The Nieuport 17 was intended to be a further development of the Nieuport 11 fighter. Compared to its predecessor, it had a larger wingspan and surface area, a more powerful engine, a Vickers machine gun, and metal aileron control wires. The plane was initially built in several French factories, but licenses were soon purchased by other countries: Great Britain, Russia, Italy, Finland and Japan.
Pilots noted its good climb rate and visibility, as well as its excellent maneuverability. The plane's powerful engine and high dive speed exposed the main drawback of the "one and a half wing" design - a weak lower wing due to only one spar. There are two known occasions when pilots made successful landings after losing their lower wings.
As you can see from the change list below, there are many improvements to Career Mode that we hope you like. More are on the way!
If you prefer to make your purchases on Steam, there are a lot of new things that are being released there today at the same time as the update. Two campaigns that were previously only available on our website have been updated and released there: Ten Days of Autumn and Hell Hawks Over the Bulge. In addition, several new bundles have been released - Steam Bundles allow you to purchase multiple aircraft and campaigns, along with the corresponding modules, at a discounted price. While they are mostly aimed at new players to make it clearer which aircraft or campaign belongs to which module (for example, they all include the Battle of Stalingrad for newcomers), they can also be beneficial for seasoned players - the content you already own on Steam is excluded from the total price, so it may be cheaper to buy a bundle even if you own all but one of its contents.
We hope you enjoy the new update and that it will enrich your gaming experience! See you in the skies!
Update 5.106 Changelist
Soviet Li-2 Collector Plane capable of carrying cargo, paratroopers, bombs, defensive and forward-firing armament, has been released;
Albatros D.2 airplane is available in Early Access for all owners of "Flying Circus Vol. III";
Nieuport 17 airplane is available in Early Access for all owners of "Flying Circus Vol. III";
Ten Days of Autumn campaign is updated and is now available on Steam as well (tactical numbers and correct camo, the aircraft quantity in the air is increased by one third, the number of convoys and artillery batteries is doubled, numerous edits to briefings, illustrations redesigned, all missions finalized and retested);
Hell Hawks Over the Bulge campaign is updated and is now available on Steam as well (script triggers, aircraft tactical numbers, generic and unique paint schemes for three participating squadrons, faster mission loading);
Sky Nomads campaign is updated (slightly reduced the difficulty of the 10th mission and changed the briefing of the 15th mission);
Normandy and Rheinland Career mode: new mission type - Intruder;
Moscow, Stalingrad, Kuban Career mode: added Artillery Spotting missions for USSR (IL-2 and U-2) and Germany (Bf 109 E, Ju-87);
Rheinland Career: added photo reconnaissance missions on Spitfire XIVe;
Career: updated free hunt missions, added patrol area marks the map and updated mission score logic;
Career: enemy night fighters can be encountered near the front line during night combat patrol missions;
Career: fighter cover has been added, enemy free hunters removed from transport missions in all career timeframes;
Career: trains appear in combat reconnaissance missions correctly;
Stalingrad Career mode: Ju 52 transport mission have fighter escort;
Rheinland Career mode: in the transport escort missions during the Market Garden and Varsity operations the transport aircraft have mixed loadouts;
Western Front WWI Career: BoSta 13 during the first phase (1917) and SchuSta 27b after 29.09.1917 careers progress correctly;
Western Front WWI careers: potential career progression issues to Phase 2 corrected for French Escadrille SPA 26, British squadrons No.1, No.2 AFC, No.11, No.18, No.19, No.20, No.23, No.43, No.46, No.48, No.56, and No.79, and German Jasta Boelcke, Jasta 4, 6, 7, 8, 11, 14, 35b, and 40s.
Kuban Career mode: fixed German ground attack aircraft not having bombs in escort missions;
Career mode: corrected taxiing at Tangmere airfield in Normandy and Bolshaya Rossoshka near Stalingrad (previously the lead aircraft could crash into another planes on the runway);
Normandy Career mode for USA and UK: in all escort missions the escort flight comes from the UK side;
ShVAK gun internal firing sounds updated;
Fuel gauge switch control has been implemented on Ju-88, Bf 110, Me 410, Fw 190D9, A-20, C-47, Li-2, Hurricane and Typhoon aircraft. The switch no longer activates "automatically" from time to time, there is a new command for this (RShift + I by default);
Spitfire Mk.V, Spitfire Mk.IX, and P-38 aircraft have the fuel gauge button control implemented (P-38 has a remaining fuel reserve control button). The button is no longer pressed "automatically" from time to time, you have to press and hold the button to operate the fuel gauge (RShift + I by default);
Ground spotters correctly give targeting info to AI pilots;
Fixed a problem with AI pilots climbing as a flight while carrying a heavy bomb load;
Corrected airframe strength of Nieuport 11 and Halberstadt D.II (slightly increased) and Siemens-Schuckert D.IV (slightly decreased);
Nieuport 11: RPM indicator now gives correct readings;
Nieuport 11: corrected engine thermal model, overcooling tendency is decreased;
Nieuport 11, Halberstadt D.II: corrected visual flight stick position and fuel gauge bulb in the cockpit;
Hs 129: corrected typos and errors in cockpit textures (Oyster_KAI);
Halberstadt D.II and Mosquito F.B. Mk.VI series.2 are visible at long distances (more than 10 km) correctly;
Ju 88A-4: lower gunner uniform matches the time of year and timeframe.